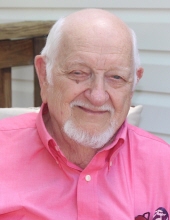 Obituary for David Taylor Guthrie
David "Dave" Taylor Guthrie, peacefully passed away on March 6, 2019, having lived to damn near 93. His quiet and supportive presence lifted his family and friends during his final years. He touched all who knew him. He showed how to live life with integrity and how to confront death with dignity and grace. His assurance in the goodness of God's plan for him, whatever that may be, gave him peace in the face of the unknown.
Dave was born into a large and loving family, on February 5, 1927. His early introduction to the Quaker faith continued to impact his beliefs throughout his life. He graduated from the University of Iowa in 1965 and from Dubuque Theological Seminary in 1967. He pastored Presbyterian churches in Pennsylvania and in Minnesota, long remembered for his thought provoking sermons. Considering himself and lifelong seeker, he "had the questions and not the answers". In retirement his leadership continued in the senior group Happy Times, where he enjoyed friends, fellowship and celebration of his 92nd birthday.
Dave met and married his wife Anne in 1947. They shared many common interests and memories: hosting foreign exchange students, a canoe trip along the Canadian boundary waters, game nights with friends, and extended family reunions with his beloved siblings. Upon Dave's retirement in 1992 they relocated to Charlotte to be near their children, living there until her passing after 66 years together. Dave was later lucky enough to find love and companionship a second time, rekindling an old friendship.
Dave had a lifelong love of music, peanut brittle, a crackling fire, a good discussion, black walnut anything and the Chicago Cubs. He excelled at crossword puzzles (only the most challenging), card games, golf, chess and the harmonica. He was known for his sharp memory, his wit, his recall of song lyrics and melodies, and remembering just about any joke he'd ever heard.
Dave is survived by his sons: David and Steve and his daughters: Marti Dushak, Cindy Nelson, Karen Bigham, and Amy Ross, his 7 grandchildren and 13 great grandchildren. He was preceded in death by his wife Anne and his eight siblings.
In lieu of flowers donations may be made to Hospice of Charlotte. Heartfelt thanks go to the compassionate staff and volunteers that provided his "safety net" as he transitioned from this life into the next.
Previous Events
Celebration of Life
Morningstar Presbyterian Church
13000 Idlewild Rd
Matthews, NC 28105
Memorial Contribution
Hospice & Palliative Care Charlotte Region
7845 Little Ave
Charlotte, NC 28226